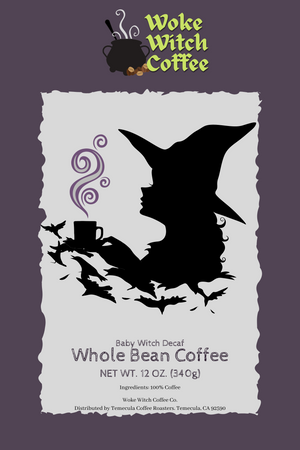 Baby Witch Decaf - 12 OZ Whole Bean
Sale price Price $19.99 Regular price
A 'baby witch' is someone just getting started and beginning their journey - regardless of age or experience. They are seeing the world from a new perspective for the first time and they are open to new opportunities. We dedicate this blend to the 'Baby Witch.' A Light and smooth blend of decaf to get you started. 
Certification/Grading: Organic/Swiss
Roast: Medium
Tasting Profile: Caramel, smooth, citrus
Grower: Cooperativa Agricola de Servicisios Norandino
Variety: Caturra, Bourpon, Catuai, Pache, & Catimor
Region: Piura, Amazonas, Peru
Altitude: 1100-1700 M
Soil Type: Clay Minerals
Process: Gully washed and dried in the sun and decaffeinated using the Swiss Water Process.
12 Oz Whole Bean