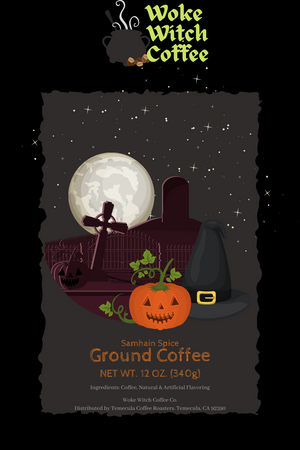 Samhain Spice - Bulk Options
Sale price Price $23.99 Regular price
When the cold wind blows in and the leaves start to change colors, all witches know it is time for All Hallow's Eve. Samhain is the Witches' New Year, and the time of the year when the veil is thin. All manner of spirits and ghosts may pass through and dance with the witches on this night! Light the jack-o-lantern to ward off evil spirits because tonight the witches ride!
Roast: Medium
This seasonal favorite is available year round.  The all natural flavoring has hints of pumpkin, cinnamon and nutmeg combined with a deep medium roast arabica coffee.  
All of our flavored coffees start as specialty grade single origin coffee roasted in small batches to a smooth medium. Each order is then carefully flavored with high quality flavoring oils while still warm. 
*All Natural Flavoring
 Bulk Options are available in Standard Ground, Espresso, and Whole Bean in the following sizes:
1 LB, 2 LB, 5 LB, 12 LB
Bulk options are black and white labeled.